Author: Gan Jia Ci
The Forsyth County Sheriff's Office arrested five robbers who allegedly conspired to trespass a Forsyth County home and steal approximately $1 million worth of Bitcoin. The investigation first took place in January 2018.
The Forsyth County Sheriff's Office Narcotics Unit made a response to a local hotel regarding what was initially thought to be a drug investigation. After an intensive four-month-long investigation, the arrest was made where narcotics officers got a hold of four men who possessed zip ties, latex gloves, duct tape and bandanas on January 29. Unfortunately, the men were released due to lack of sufficient evidence against them.
Following the release, additional investigation proved that the 4 men were not part of a alleged drug-related crime, but responsible for a planned burglary in a bid to steal a homeowner's digital currency instead. The detectives managed to arrest the four males, namely Trivette Adams, Matthew Schwartz, Jacob South and Michael McDermont after an arrest warrant was issued.
On January 30, detectives found Adams and Mcdermont near Atlanta Hartsfield-Jackson International Airport, making an attempt to flee the region by plane. Adams was arrested after further attempt to run from the officials.  
On the other hand, South and Schwartz managed to fly out of Atlanta to Chicago before getting caught by two Major Crimes Unit deputies where the latter succeeded in extraditing the two, aided by the Chicago Police Department.
The last and final suspect, Justin Ellison of Illinois, was arrested on May 11 subsequently after an interview by the Illinois officials with regards to the ongoing investigation.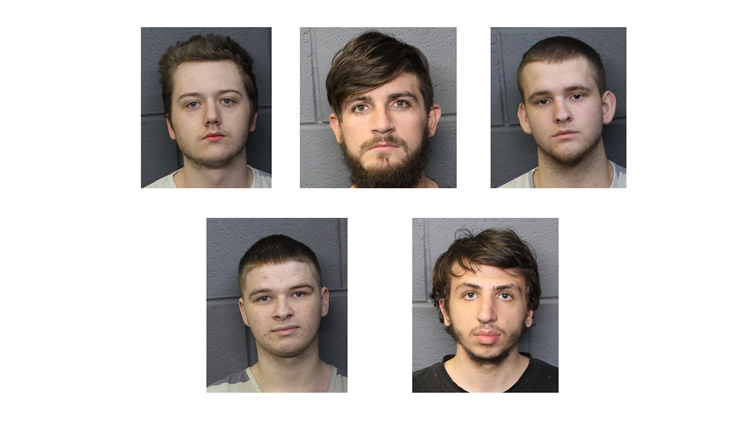 From left to right: Matthew Schwartz; Robert Jacob South; Trivette Lane Adams; Justin Eric Ellison; Michael Anthony McDermott
Cpl. Doug Rainwater of the Forsyth County Sheriff's Office mentioned that the first four suspects were "staking out" a local residence and were arrested before they could carry out the burglary. He stated, "They knew the premises, knew the routines of the occupants. They had everything figured out."
The victim was reported to have 80 Bitcoins, with the total approximating up to $800,000 USD.
According to 11 Alive, the final charges are as follows:
"Trivette Adams, 20, of Pflugerville, Tex., has been charged with residential strong arm robbery and criminal trespass; Robert South, 21, of Norcross has been charged with residential strong arm robbery; Matthew Schwartz, 18, of Hesperia, Calif., has been charged with residential strong arm robbery; Michael McDermott, 18, has been charged with residential strong arm robbery and criminal trespass; Justin Ellison, 20, of Worth, Ill., has been charged with residential strong arm robbery and conspiracy to commit a felony."